Runner-Up for the 3rd Annual Think Fresh Soup Recipe Contest Presented with an Award!
Jul 02, 2015
Our third annual Custom Culinary® Think Fresh Soup Recipe Contest took place January 1st through February 28th, 2015.  We launched this contest in January to kick off National Soup Month. Participants submitted their favorite soup recipe featuring a Custom Culinary® Gold Label or Master's Touch® Bases. This year's Think Fresh Soup Recipe Contest was a success! We received an astonishing number of quality recipe submissions. Our culinary team carefully reviewed every submission to determine our winners. Thank you to everyone that participated!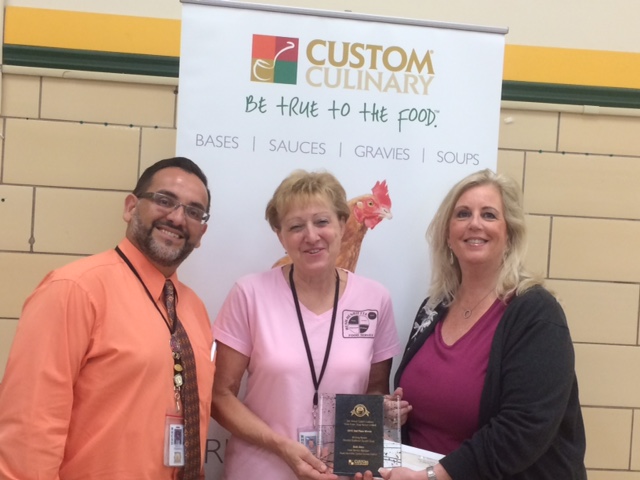 (Photographed: Geraldo Torres, Beth Allen, and Kathy Carroll) 
Kathy Carroll of Custom Culinary® presented Beth Allen, of the Rush-Henrietta Central School District, with the Runner-up award in our 2015 Think Fresh Soup Recipe Contest!  The award presentation was a huge celebration not only for Custom Culinary® but Beth's colleagues surprised her with a mini-celebration at work to honor her accomplishments.
Our Runner-up winner, Chef Beth Allen was able to tickle our flavor buds with her Roasted Butternut Squash Soup using the Custom Culinary® Master's Touch® Chicken base. The team here at Lombard sampled all the recipes and unanimously decided Chef Allens's soup was one of the finest submissions of the year.
Congratulations Chef Beth Allen!