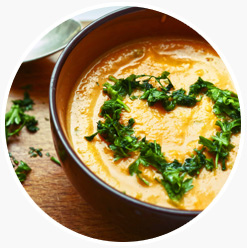 SPOTLIGHT
Soup-er news from the world of broths and bisques—the latest iterations of the menu staple are truly liquid gold. From fortified soups full of healthy ingredients such as kale and turmeric to sippable bone broths served in paper to-go cups, comforting flavors and exciting textures can be found all over today's menus and street food stalls. No longer limited by seasonality, hearty and nourishing soups are appearing more frequently as main dishes—up 3.3% over the past four years, while appetizer and side soups have dropped. Deliver on the appeal of soup as an entrée with interesting ingredient twists such as Greek yogurt, coconut milk or nut milks rather than traditional cream; charred vegetables for depth of flavor; pulses and healthy grains instead of wheat noodles; and proteins with global flavor cues like chorizo and tandoori chicken.

FASTEST-GROWING SOUPS ON MENUS
(% increase year over year)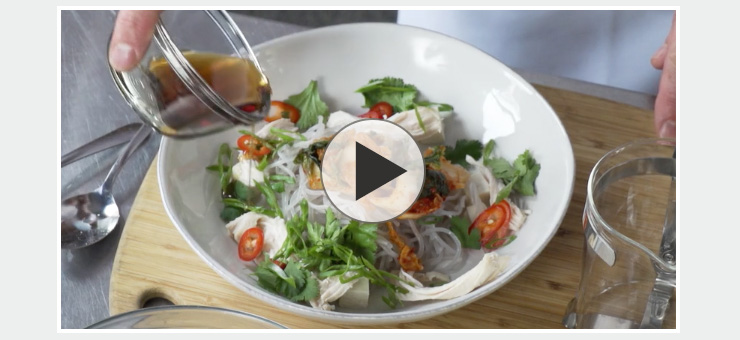 Learn how to make an easy, delicious Korean Chicken Noodle Soup with an all-new recipe from the Custom Culinary® team!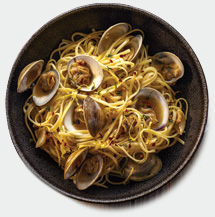 CUSTOM CULINARY® FEATURED PRODUCTS
The possibilities are endless. Ready-to-use products from Custom Culinary® serve as the foundation for any soup you can dream up!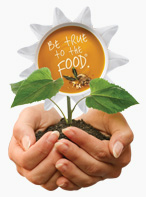 COMPANY NEWS
Here at Custom Culinary®, wholesome and nourishing products go hand in hand. We're helping our customers build better menus from the ground up by offering products without gluten, artificial colors and modified food starches. In addition, our entire portfolio is on the way to being virtually free from Big 8 allergens such as wheat and soy.
PROMOTIONS
Wholesome dishes have never been easier to create, thanks to clean label Gold Label True Foundation™ Bases from Custom Culinary®.
BOGO GOLD LABEL TRUE FOUNDATIONS™ BASES
Download our buy one case, get one free rebate here.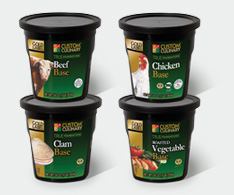 AUTHENTIC VOICE
Michael Minor, CEC, AAC, HGT
, takes us on a tour of his favorite comfort soups from around the world. Read his latest blog post.
View blog post »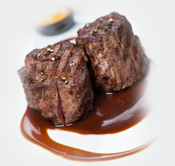 FlavorIQSM
from Custom Culinary
®
is a revolutionary approach to product development. Our four-step process delivers fast, intelligent menu innovations to meet your needs.
Click here
to learn more about Custom Culinary
®
and FlavorIQ
SM
.

Sources:
Bret Thorn, "Soup steps into starring role," Nation's Restaurant News, February 1, 2017.
Joan Lang, "10 Soup Upgrades," Flavor & The Menu, September 1, 2016.