SPOTLIGHT

Delectable seasonings, juicy meat and an unforgettable, satisfying crunch—is it any surprise that fried chicken is one of the world's most beloved and popular foods? While most patrons are familiar with Southern-style buttermilk fried chicken, there's truly a world of opportunity for introducing new marinades, batters/breadings, glazes and dipping sauces to your menu offerings. From the appetizer appeal of Indian chicken 65 (deep-fried bites dressed in spicy chiles, onion and lemon) to sandwich-ready Japanese katsu (panko-breaded cutlets), to Nashville hot chicken biscuit sandwiches, fried chicken can be served across menuparts and dayparts. Distinctive, unique flavors are up across the board, but be sure to consider a balance between sweet and heat. According to Technomic, 33% of millennials say they're eating more fried chicken with spicy flavors now than they were in 2015. That said, more consumers also say they prefer honey on chicken than they did in the past. Fried chicken accompaniments such as honey butter, Korean gochujang and fruit chutney will help to satisfy your customers' desire for a range of unique flavors.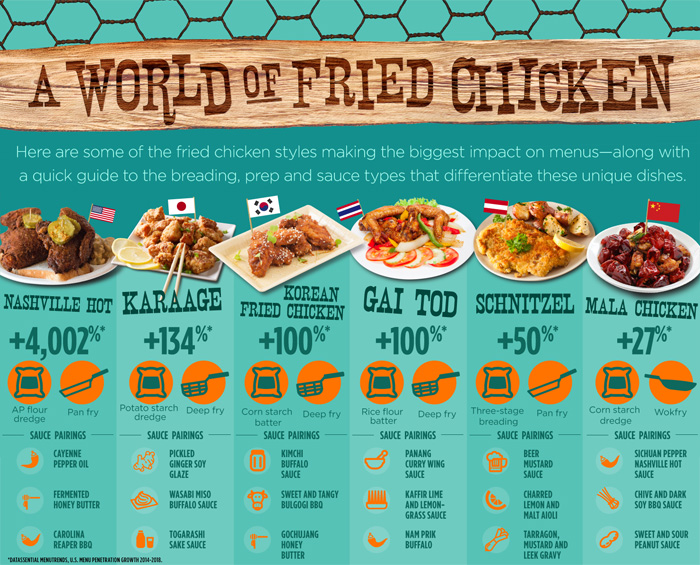 There's no denying the consumer appeal of fried chicken—especially when you mix things up with authentic, on-trend flavors. Give these glazes, marinades and sauces featuring Custom Culinary® products a try!

RECIPES

 FEATURING CUSTOM CULINARY

®

BRANDED PRODUCTS
Thai Sriracha-Lime Sweet Chili Glazed Wings
Showcase the versatility of Custom Culinary® Master's Touch® Sriracha Lime Flavor Concentrate in two ways: in a Thai sriracha-lime sweet chili glaze for grilled chicken wings, as well as in a zesty sriracha-lime ranch dipping sauce.
View Recipe

Garlic Grana Padano Chicken Wings
Whether grilled, baked or deep-fried, these savory wings deliver mouthwatering flavor in the form of a basil, red pepper and Grana Padano dressing made with Custom Culinary® Master's Touch® Roasted Garlic Flavor Concentrate.
View Recipe

Cuban Mojo Marinade
Mojo, the classic Cuban sauce, gets a unique flavor boost when made with Custom Culinary® Master's Touch® Southwest Flavor Concentrate along with grapefruit, orange and lime juices.
View Recipe

Adobo Sauce
The ideal marinade for Latin-inspired fried chicken. Our recipe features Custom Culinary® Gold Label Beef Base, tomatoes, garlic, onion, almonds, pine nuts, aromatic cloves, anise, cumin and more! 
View Recipe

Chimichurri Sauce
Bright and bold, this combination of Custom Culinary® Master's Touch® Roasted Garlic and Chipotle Flavor Concentrates, parsley, cilantro, carrots, onion and bell pepper serves as a vibrant dipping sauce for fried chicken.
View Recipe
MENU INSPIRATION

FEATURING CUSTOM CULINARY

® PROPRIETARY PRODUCTS
Saigon x Nashville Hot Chicken
A unique twist on double-fried chicken, marinated in shrimp paste, galangal and lemongrass. Tossed in fiery Custom Culinary® Nashville Hot Sauce studded with Thai chilies and ginger, served over garlic rice and lemongrass pickles.

Gochujang Honey Butter Chicken
Southern-style skillet-fried chicken basted in gochujang honey compound butter—made with Custom Culinary® Korean Gochujang and Honey Sauce. Served with gochugaru spice and scallion biscuits, and more butter on the side.

Pickled Calabrian Hot Chicken Sandwich
A rosemary- and garlic-marinated chicken thigh, fried and topped with Custom Culinary® Calabrian Chili Pepper Relish and smoked provolone, served on toasted focaccia.

Pollo Medianoche
A whole spatchcocked chicken dredged in Custom Culinary® Oaxacan Mole Negro batter, fried and served over rice and beans, fried plantains and escabeche pickles. 

Aji Amarillo Wings
Crispy chicken wings tossed in a fruity, fiery Custom Culinary® Aji Amarillo BBQ Sauce. Served with tequila-pickled carrots.
CUSTOM CULINARY® FEATURED PRODUCTS


Fried chicken gets a global spin with bold and flavorful products from Custom Culinary®.
BRANDED PRODUCTS

PROPRIETARY PRODUCTS*

*Products are customized; please contact your Custom Culinary® representative for more information.
Download your free copy of our new white paper: "Adapting to Today's 'New Healthy.'"

Download the PDF here.

Learn how to set up a profitable made-to-order noodle bar in your operation with our "Raising the Bar" guide. 
Download the PDF here.

COME MEET US

Here are some of the upcoming industry events where you'll find our team. Please reach out to your Custom Culinary® representative if you'd like to set up a meeting at one of the following conferences:

Market Vision Fall Purchasing Conference: Orlando, Florida October 24-26

AUTHENTIC VOICE 
Chef Michael Smith knows a thing or two about what makes fried chicken such a beloved dish—and he's sharing some of his favorite examples and prep tips. 
View Blog Post
WHERE INSIGHTS BECOME INSPIRATION™

FlavorIQ® from Custom Culinary® is a revolutionary approach to product development. Our four-step process delivers fast, intelligent menu innovations to meet your needs. Click here to learn more about Custom Culinary® and FlavorIQ®.