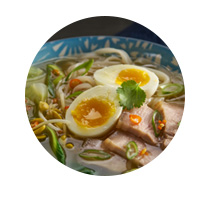 Bibim Naengmyeon
This dish features a savory chilled broth made from Custom Culinary® Korean Soybean Soup Concentrate, loaded with sweet potato noodles, chili paste, thinly sliced brisket, button mushrooms, pickled radish and spring onion.
Chimichurri Tsukemen Ramen
Chewy ramen noodles are topped with a tea egg, green onion, shaved beef and Custom Culinary® Green Onion Sesame Chimichurri, served alongside a bowl of shoyu ramen broth for dipping.
Umami Noodle Soup
Complex flavors come alive in a broth made with Custom Culinary® Roasted Garlic Black Bean Sauce, layered with chili noodles, scallions, radishes, mushrooms and seared pork belly, topped with fried garlic and chili strands.
Coconut Tamarind Laksa
Thick rice noodles are served in a fiery curry broth made with Custom Culinary® Coconut and Tamarind Sambal, topped with shrimp, bamboo shoots, scallions, red onion, cilantro and lemongrass.