Custom Culinary® sauces save valuable time and labor back-of-house, so you can focus on creating signature dishes. With a lineup that includes classic alfredo, demi-glace and hollandaise sauces; ethnic items from harissa to ponzu, mole negro to bulgogi—the Custom Culinary® sauce portfolio truly meets every operator's needs. Choose the format that's right for you!

CUSTOM CULINARY® GOLD LABEL READY-TO-USE SAUCES
Offer a made-from-scratch taste in an instant. A full range of mother sauces and ethnic accents in a convenient format. Ethnic flavors cover Southeast Asia, the Caribbean and Latin America. 
Made with high-quality ingredients, including real dairy, wine reductions and fresh peppers

Convenient frozen format—simply thaw, heat and serve

 PASSPORT GLOBAL FLAVORS™ BY CUSTOM CULINARY® AUTHENTIC ETHNIC FLAVORS
Our line of Passport Global Flavors™ Sauces feature authentic flavor profiles inspired by Korean and Latin cuisines. Meet consumer demand for on-trend global fare with these versatile products, which can be used as finishing sauces, marinades, condiments, glazes and more.
Latin sauces range from mild to bold, with balanced flavor and spice levels

Korean sauces ideal for fusion dishes or signature takes on popular favorites
CUSTOM CULINARY® MASTER'S TOUCH® SAUCE CONCENTRATES AND MIXES
Our line of Master's Touch®  Sauce Concentrates, including an Alfredo, Hollandaise, and Demi-Glace Concentrate, provide a well-balanced flavor and texture profile to enhance traditional classics.
Premium sauce concentrates with cooked-from-scratch flavor and texture

Simple add-water-only paste format

Mother sauces can be served on their own or used as foundation for signature sauces

Full-flavored, smooth and creamy cheese sauce mix also available
CUSTOM CULINARY® WHISK & SERVE® SAUCE MIXES
Flavors include demi-glace, Alfredo, hollandaise, beurre blanc and a white sauce. Just whisk and serve.
Easy add-water-only preparation

Best-in-class performance

Reduces prep time and costs less than other mixes—incredible value

Traditional, versatile flavor profiles
The versatility of our sauces enables speed scratch applications which can be applied across multiple dayparts. Click the video to get a taste of how our sauces can elevate menu items into something unique and unexpected!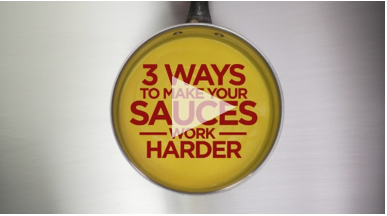 From time-tested classics to exciting global favors, don't forget to check out our sauces brochure. Featuring over 30 sauces and menu inspirations, discover unique ways to serve Custom Culinary® sauces to your patrons today.