Processors:
Our role with food processor customers runs the gamut from being strictly a supplier to consultative culinary partner. Our dedicated team of experts works collaboratively to develop customized solutions to meet your specific processing needs. We bring you comprehensive dedicated resources backed by our expertise, rigorous standards, and longstanding tradition of excellence.
AUGUST 2016 CULINARY TREND FEATURE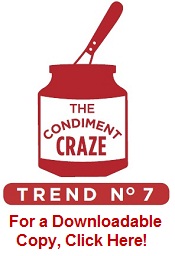 Our 7th culinary trend of 2016 highlights the proliferation and rapid growth of ethnic condiments on menus across the US.
Has there been a hotter, more flavorful success story than the ascent of sriracha? The rooster sauce craze demonstrated just how eager today's customers are for bold condiments. Complex ethnic sauces—such as Korean gochujang, Indonesian sambal and North African chermoula—will gain wider acceptance on American menus, playing a major role in fusion flavors and globally inspired cuisine.
Join us as we continue to search for the next sriracha!

CULINARY INNOVATION 
The lifeblood of Custom Culinary, Inc. is our culinary team. What makes our company unique is that our research & development and culinary leadership are, in fact, one and the same. 
Led by Mike Lonteen, Vice President of R&D and Research Chefs Association Pioneer Award winner, the research center is special because it seamlessly fuses food science with culinary. Plus, Mike Minor, CEC, AAC, HGT, Culinary Ambassador and Research Chefs Association Lifetime Achievement Award winner adds his 45+ years of chef and manufacturer experience to our business. 
Together, this team brings an unparalleled element of expertise that our processor customers literally can't get anywhere else. In addition, everyone in R&D works closely with our other corporate executive chefs, both domestic and global—from 26 countries—and stays on top of the latest food technology breakthroughs. 
MARKETING
Our marketing team is at the forefront of consumer taste and preference trends. We use relevant proprietary and secondary qualitative and quantitative research to help food companies track emerging flavors, and then work with the culinary innovation team to filter out the most viable flavors to test and recommend. 
SENSORY PANEL
Our sensory team uses trained panelists to come up with attribute testing and descriptive analyses. This process ensures a new product has gone through its proper paces.
Contact our offices today to find out how Custom Culinary® food bases, sauces and gravies can help you.