New Gold Label True Foundations™ Bases from Custom Culinary® were developed with the needs of both operators and consumers in mind. The clean labeling movement indicates that consumers are more interested in the story behind their food than ever before. 54% of consumers are calling for more menu transparency.1 In fact, 68% of consumers want food and beverages with ingredients they can recognize..2

For operators this is more than a trend, it's a change in mindset—taking pride in everything on the plate, starting with the foundations of every dish. That's why our innovative Gold Label True Foundations™ Bases focus on flavor, not unpronounceable or unnecessary ingredients.
Gold Label True Foundations™
Clean, simple ingredient decks deliver incredible made-from-scratch flavor

Can be used in both hot and cold applications, including sauces, soups, and marinades

Available in two pack sizes: 6x1 pound tubs and 20 pound pails
Gold Label True Foundations™ Bases contain NO:
Hydrolyzed vegetable protein (HVP)

Added MSG

Gluten4

Disodium inosinate & disodium guanylate (I+G)

Artificial colors

Artificial flavors 
Click below to view our True Foundations™ Launch Video!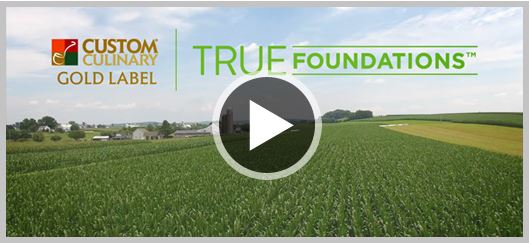 Gold Label True Foundations™ Bases help operators build better menus from the ground up! These wholesome bases are available in four varieties for the ultimate culinary versatility.
1, 3 Technomic, The Healthy Eating Consumer Trend Report, 2016
3 Canadean, Clean Label Conference, 2016
4 Tested at less than 20 ppm gluten.